Cock by Mike Bartlett
Presented by Boyslikeme Productions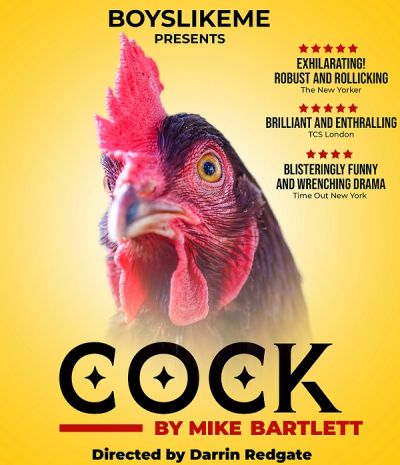 The team who brought you "Next Fall" and "An Unseasonable Fall of Snow" are back with a cracking new play.
When John takes a break from his boyfriend, he accidentally meets the girl of his dreams. Filled with guilt and indecision he decides there is only one way to straighten this out…
Mike Bartlett's metrosexual play about love and longing provides us of who we are and who we want to be. John's refusal to fix his identity disturbs and disrupts the lives of those around him in this contemporary tale of sex without nudity and struggle without violence.
Mike Bartlett's punchy story takes a playful, candid look at one man's sexuality and the difficulties that arise when you realise you have a choice.
Premiering in London in 2009 Cock has gone on to huge success around the world including New York, LA, Sydney and Melbourne culminating in a hugely successful and critically acclaimed West End production earlier this year. This is the Adelaide premiere.
The New Yorker called Cock "Exhilarating, Robust and Rollicking" while TCS London said "Brilliant and Enthralling and a bloody good night" Time Out New York commented that Cock was "Blisteringly Funny and a Wrenching Drama" while back in AUS the Australian Arts review commented that Cock was "One of the finest pieces of writing I've seen on an Australian Stage in years. Well worth seeing."
Suitable for ages 16 and over.
Sometimes love is worth a good fight!
Cast
David Daradan
James McClusky - Garcia
Stefanie Rossi
Stephen Schofield
Director
Darrin Redgate